National Strategy for Financial Capability - Wāhine focus
What is Whai Rawa doing?
As part of our mahi with Te Ara Ahunga Ora (Retirement Commission) and their National Strategy for Financial Capability, and to celebrate International Womens Day this week, Whai Rawa is launching 'He Matapaki Māreikura', content specific to our wāhine members to assist with financial capability.
Te Ara Ahunga Ora (Retirement Commission) says that their research consistently demonstrates that women's financial literacy is significantly lower than that of men. Women experience pay inequity in the labour market and tend to be the family members who take time out of the workforce to care for children or older relatives, meaning they arrive at retirement with less. Women often relate to money in different ways to men, and financial capability messages have not always resonated with them. By focusing on women's particular needs, in ways that will reach them, the financial services sector aims to support women's financial empowerment.
Keep an eye out for some amazing content in our 'He Matapaki Māreikura' space. We want you to feel confident and take control of your finances. We will share ideas to think ahead, advice from the experts, top tips, and ways to make it all happen.

He Matapaki Māreikura is for you wāhine mā! We will be sharing content to assist with financial capability including great tips and tricks, advice from the experts and much more to help with your financial journey.
Whai Rawa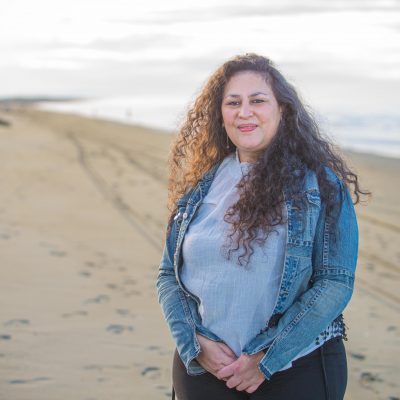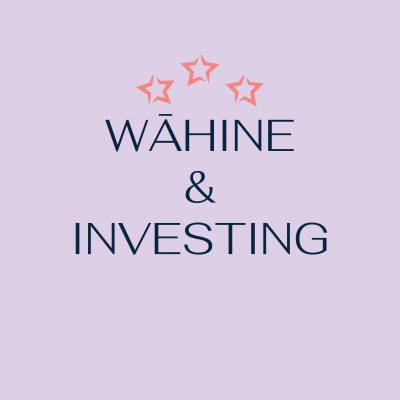 WĀHINE AND INVESTING
Wāhine and investing – what is your strategy for the future?
Often we carry misconceptions about investing and who should invest and wāhine have been traditionally left out of the investing kōrero. Research published by Money & You – a consumer brand from the Financial Services Council – in December 2021 revealed that 60% of women who were surveyed rated their investing literacy as low.
However, research indicates that when women invest, they are good at it. In fact, wāhine can make better investors than tāne!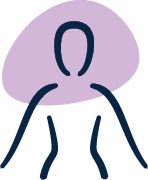 Never invested before? Here are some reasons why you might want to think again.
Craigs Investment Partners share some more information on this:
Wāhine are more likely to follow tried and tested investing principles, while males often think they know better.
In contrast, men tend to overestimate their ability, and believe their more frequent trading will make them money. In truth, all it does is cost them more in fees.
Wāhine are less likely to hold a losing position too long, while men will often persevere, insisting the market doesn't understand and that one day they will be proved right.
Wāhine don't tend to jump on bandwagons without doing adequate research, nor do they hold such concentrated portfolios.
Watch the video with Helen Skinner from Craigs Investment Partners here for a great kōrero on why wāhine should invest https://www.moneyandyou.org.nz/blog/why-women-should-invest

The wāhine from the Curve (www.thecurve.co.nz) share their top tips for investing:
Don't invest all your savings in one place. Pick three or four to spread it out. Kiwisaver is really good for this – you can learn a lot from your Kiwisaver provider.
There's little changes you can make now that will be hugely beneficial in the future, even if that's just changing your provider or fund option.
Investing can be fun! We're a generation that's used to buying stuff now and paying for it later. But when you realise that you could invest that $100 instead of buying the shoes, you could end up with $200 – and then you can buy more shoes.
There's always risk factors to consider when it comes to investing, it can be intimidating. But it's like everything else in life, whether it's a business idea, or a relationship, it may not work. But if it does, it's worth it, and if it doesn't, you've learned something.
Read more on this at https://thecurve.co.nz/blogs/resources/nz-herald-what-makes-women-better-investors-than-men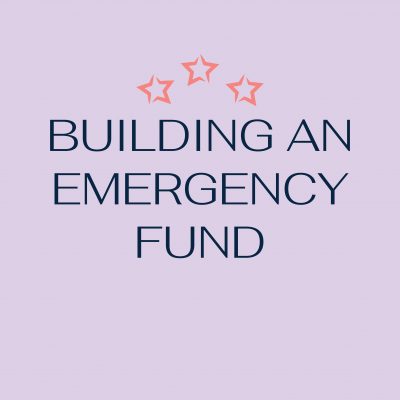 BUILDING AN EMERGENCY FUND
Building an emergency fund – how to do it and why.
Are you prepared for the unexpected? Having an emergency fund is a good place to start if you're looking to help build a sense of financial security. Setting up an account with a buffer can help you remain on top of your expenses or avoid debt if an unexpected expense does come up.
How much do I need to save?
The amount of an emergency fund may vary from person to person and can depend on many factors such as:
your current expenses
if you've got a kurī, tamariki or other whānau to support
if you're likely to incur any costs in the future – think dentist appointments, potential car or house repairs etc

Here are some top tips from ASB on how to start your emergency fund:
CALCULATE HOW MUCH YOU'LL NEED TO SAVE – Start by planning to save extra for things like your car registration or car services – just in case there's an unexpected repair you might need. While a $250 repair might not break the bank, it can throw your budget out if you aren't prepared. Then look at what you tend to spend in a month. If you were unable to work for a period of time, how much money would you need to have saved to cover those expenses?
SET UP YOUR ACCOUNT AND MAKE A PLAN – Work out how much to put aside, either weekly, fortnightly or monthly. Saving for three months of living costs can be a lot, so start small. Saving $10 a week is still over $500 a year. If you're not sure where to start, your first goal can be to save around $500 – $1,000. And then work towards three months' living expenses.
Tip: your emergency savings should be kept separate from your regular everyday account so you don't spend it on everyday items.
START PUTTING MONEY ASIDE AUTOMATICALLY – Once you've set up your budget and your goals, it's a good idea to make saving automatic. Set up an automatic payment so that you don't even have to think about it, and you're less tempted to start spending it.
IF YOU NEED TO PUSH GO – If you need to dip into your emergency savings, that's okay, that's what it's there for. All you have to do is make a plan to top it back up again.
Read more about planning for the unexpected and calculate how much you might need here www.asb.co.nz/banking-with-asb/planning-for-the-unexpected.html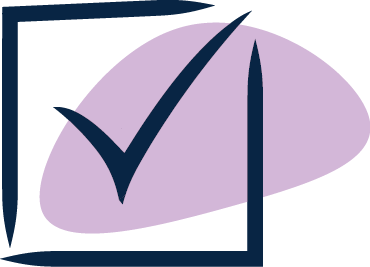 Make it happen:
Our friends at Live Sorted NZ have a checklist you can use to track your progress! All you need to do is create an account with Live Sorted NZ and add a task or goal to your checklist.
You can regularly update this with your progress to stay motivated and keep on track.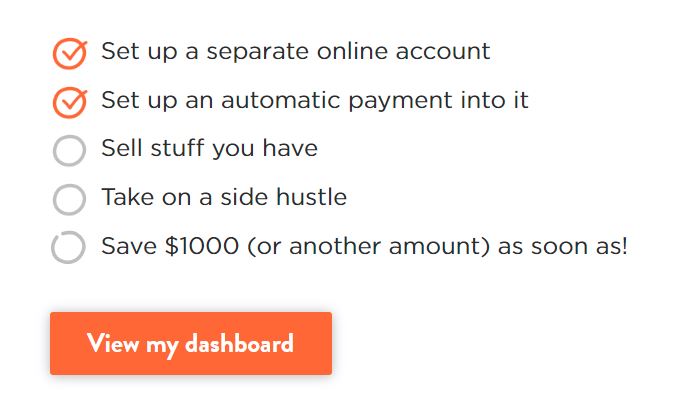 Find more information here https://sorted.org.nz/6-steps-to-get-your-money-sorted/start-your-emergency-fund/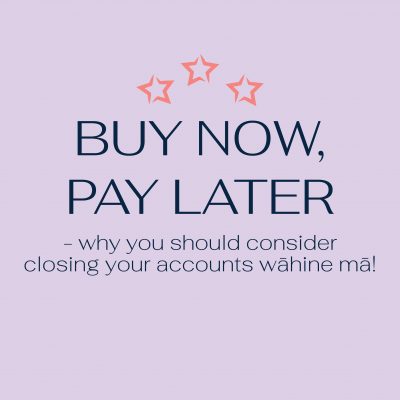 BUY NOW, PAY LATER
What is Buy-Now, Pay-Later?
Buy Now Pay Later (BNPL) is a relatively new and fast-growing credit alternative where you can get access to goods or services now but pay for them later in a series of instalments, with no interest.
Afterpay, Humm, Zip, Laybuy, Genoapay (Latitude), Openpay, and Klarna are examples of BNPL in New Zealand.
With the rise of Buy Now Pay Later schemes in Aotearoa we thought it would be a good idea to kōrero about things to look out for and how to avoid getting into trouble. BNPL businesses are targeting wāhine as an easy way to purchase items you want without the 'credit card debt'. Wāhine mā – anything where you don't have the cash to buy the item is a debt, whether or not it is credit card debt or BNPL.

Here is some advice from She's on the Money Blog.
FEES – If you don't have the money in your account and your card declines on the payment date, you have 24 hours to log onto your account and pay the amount due, you may be charged a late fee and this fee can be charged every week until you make the payment.
IMPULSE PURCHASES – People are making impulse purchases faster and more frequently than they would have without these services and now more than 7,000 retailers have caught on.
ONLY BUY WHAT YOU CAN AFFORD – Overall, the best idea is to just be aware of your financial situation and be honest with yourself about what you can and can't afford. If buy now, pay later is a way of getting something that you otherwise couldn't afford, its time to say no.
Find out more at: shesonthemoney.com.au/blog/afterpay-the-smart-way

Sorted NZ have some tips for spending safer when using Buy Now, Pay Later.
1. Try not to be tempted to take out more than one at a time.
2. Use Buy Now, Pay Later to buy larger ticket items only if you have to. Better yet, save up for it instead.
3. If you must take out more than one of these, list them all and set reminders in your phone when repayments are due.
4. Make sure to have enough funds in your account when repayments are due, so you don't get charged late fees.
5. Don't get left with a black mark on your credit rating by missing repayments and not paying off any penalties.
Find more information at sorted.org.nz/spend-safer
The information contained in this document is intended for general guidance and information only and is not personalised to you. It does not take into account your particular financial situation or goals.
The links shared and associated content on this website have not been vetted or otherwise approved by Whai Rawa Fund Limited and neither Whai Rawa Fund Limited, nor Te Rūnanga o Ngāi Tahu endorse the linked material or its provider in any way. The information provided by these links and third-party providers is not personalised to you and your situation.  Before making any investment decision, or taking any action or not, you should refer to the Product Disclosure Statement and / or consult a licensed financial advice provider.
Whai Rawa Fund Limited is the issuer of the Whai Rawa Unit Trust. A copy of the Product Disclosure Statement is available at www.whairawa.com/pds. A financial advice disclosure statement is available for Whai Rawa Fund Limited at www.whairawa.com/financial-advice.